The Refinishing Company Services
Don't Replace, Refinish!
Is your furniture looking like it could use a makeover? Has some of the wood on your favorite pieces begun to chip or fade? If so, you have come to the right place. The Refinishing Company has been working in the furniture industry for many years, and are the experts on Long Island when it comes to wood refinishing, furniture repair, wood restoration, and more. Whether you have a distinct antique furniture collection that needs some shaping up, or you are looking to have your furniture repaired, we are the team that can get the job done right. The Refinishing Company offers a wide array of premier restoration services for your home or office. Some of our most popular services include:
Complete Antique Restoration
Finishing and Refinishing
Veneering
Furniture Reupholstery
Wood Door Restoration
Furniture Repair
Wood Stripping
Commercial Wood Restoration
The Refinishing Company is not just about general wood stripping or furniture repair. We guarantee that your refinishing project will stand out above the rest with a refined and sophisticated style. Our team of superior craftsmen are ready to restore your favorite furniture pieces today!
Why Should You Refinish Your Furniture?
If your home or office furniture is looking worn out or over used, your response may be to replace it. However, the experts at The Refinishing Company have been working with furniture in all states of disrepair for many years. We have become Long Island's leading wood stripping and furniture repair company. Our team knows how rewarding it can be to refinish and repair your existing wooden furniture. By refinishing your home or office furniture, you are making the most out of the investment you have made on some of your favorite pieces. By working with us, you can bring your favorite furniture pieces back to life in an exciting and refreshing way.
Even if your furniture needs just a little attention like cleaning or repairing, The Refinishing Company is here for you. We understand that you want to make the most out of your furniture investments, and are here to help you on your way. There are many reasons to repair or refinish your furniture. Some of the most popular are:
Preserve your furniture's value.
Reuse high quality materials.
Create a new style for older pieces.
Save money on new furniture investments.
Whatever the reason might be, we know that refinishing and repairing your furniture will leave you feeling comfortable and stylish. The quality of your furniture pieces will stand out with any of our refinishing, repair, or cleaning services. If it is time to breathe new life into your furniture, call Long Island's leading furniture repair team today. When you work with the family at The Refinishing Company, you are working not only with furniture experts, Long Island's most superior craftsmen.
If your home or office furniture is ready for some sophisticated sprucing up, call us today. One of our wood refinishing experts is ready to talk to you today, and provide a free estimate for your home or office furniture makeover.
Check Out What Our Clients Are Saying!
Awarded Best of 2020 Island Park!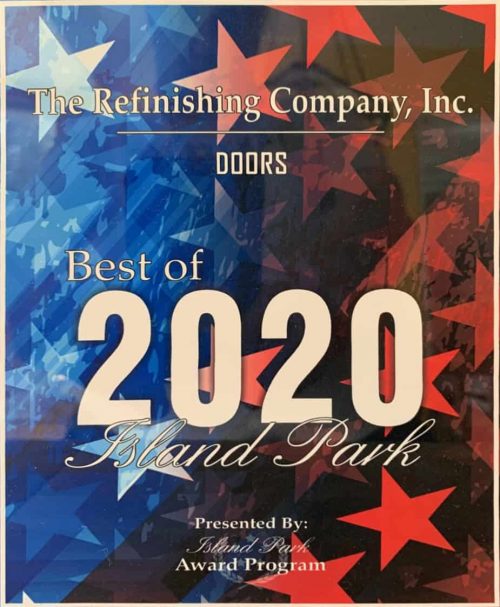 Wood Restoration on Long Island
Your New York Furniture Repair & Refinishing Shop
The Refinishing Company combines "Old World" craftsmanship with three generations of New York furniture restoration service. We have built our business on honesty, quality workmanship, and putting our clients furniture repair needs first. This, coupled with the fact that each one of our artisans are specialist in their related field, be it furniture upholstery or refinishing, ensures our clients that excellence is what we stand for. With locations around all around New York, in Queens and Suffolk County, we service Manhattan to Montauk, and are happy to schedule a free in-home estimate for any kind of furniture repair or upholstery work in New York at your convenience!
Call to Ask About our Featured Promotions !
Second to None in the Industry
Let our family demonstrate it's superior craftsmanship and service to your family. We only use the finest materials available on the market today for our New York upholstery and furniture repair jobs. This gives our clients the piece of mind, knowing their furniture is being handled and serviced with the care it deserves.
Ready to make your furniture look just like new again?
The Door Stripping & Refinishing Experts